Windows 8 Release Preview (prawie) gotowy do pobrania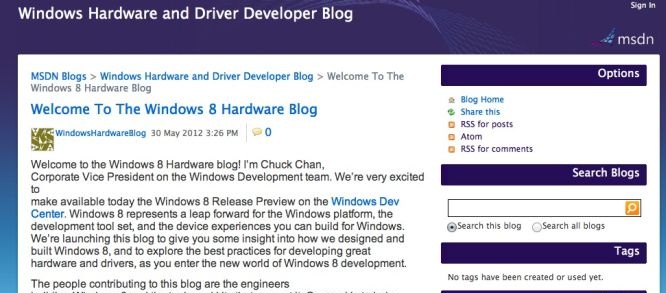 Windows 8 Release Preview był przez chwilę gotowy do pobrania. Microsoft zamieścił informację na ten temat, a później… ją usunął. Mimo wszystko sądzimy, że tą wersję systemu będziemy mogli pobrać już niedługo, być może nawet w przeciągu kilku godzin.
Na blogu Windows Hardware and Driver Developer pojawił się wpis wiceszefa zespołu odpowiedzialnego za rozwój systemu Windows, Chucka Chana. Informował on właśnie o udostępnieniu nowej wersji systemu Windows. Niestety został on szybko zdjęty. Jednak w Internecie nic nie ginie. Internauci zdołali skopiować wspomnianą notkę. Oto ona:
Welcome to the Windows 8 Hardware blog! I'm Chuck Chan,Corporate Vice President on the Windows Development team. We're very excited to make available today the Windows 8 Release Preview on the Windows Dev Center.Windows 8 represents a leap forward for the Windows platform, the development tool set, and the device experiences you can build for Windows. We're launching this blog to give you some insight into how we designed and built Windows 8, and to explore the best practices for developing great hardware and drivers, as you enter the new world of Windows 8 development.

The people contributing to this blog are the engineers building Windows 8 and the tools and kits that support it. Our goal is to help you get started by focusing on the "why" and "how" of building amazing PCs and device experiences for Windows 8. Each blog post will present a development topic and tie together information from the Dev Center, Forums, MSDN Library, and where it makes sense, samples from the Windows Hardware Code Gallery.

We designed the Windows 8 platform and tools to help you create high-quality drivers and Metro style device apps using an integrated, modern tool set. Using the Windows Driver Kit (WDK) and Visual Studio, you can write, build, sign package, deploy, test, and debug your drivers and apps directly from Visual Studio. With the new Windows Hardware Certification Kit, you can ensure the compatibility and reliability of your devices, and provide a great overall user experience.

To get started, download and install Windows 8 Release Preview, the Windows Driver Kit 8, and Visual Studio Professional 2012. The Windows 8 SDK is also included with Visual Studio. As you begin using Windows 8, you'll notice that we've added new features and improved existing ones. In addition to providing a modern tool set, we've also been hard at work improving power management and refining the way you provide a great user experience for devices with Metro style device apps. We'll share more details in future posts.

The Windows Development team will post to this blog once every one to two weeks until the release of Windows 8. Commenting is encouraged, and we are looking forward to a lively conversation. Please apply common courtesy and stay on topic with your comments. The Windows Hardware Community Forum is also a great place for hardware-related questions and discussion about Windows 8.

We can't wait to see the amazing devices and experiences you're building for Windows 8 come to life!

Chuck Chan, May 31 2012
Jak widać, Microsoft zamierza udostępnić Windows 8 Release Preview, Windows Driver Kit 8 oraz Visual Studio 2012 Release Preview. Chuck Chan dodaje też, że urządzenia z Windows 8 są bardzo ciekawe i zapewnią one niesamowite przeżycia. Co prawda mówiono już, że ostatnia przedpremierowa wersja Windows 8 pojawi się w sieci w czerwcu, ale chyba nikt nie spodziewał się tego, że jej premiera nastąpi już jutro. Na szczęście wszystko na to wskazuje.
Muszę przyznać, że bardzo mnie interesuje, jakie postępy poczynił Microsoft od lutego. Prawdopodobnie niebawem dotrze do mnie tablet MSI oparty na architekturze x86. Pozwoli on w pełni wykorzystać i sprawdzić możliwości nowego Windowsa. Swoimi wrażeniami chętnie podzielę się z Wami na łamach Spider's Web oraz PC Worlda.
Musisz przeczytać:
Uwierzę, jak zobaczę konkretne liczby.